Karl Lagerfeld's death leaves questions over where the industry is headed as most creative directors are middle-aged with only a handful younger than 40
By Leona Liu, May 18, 2019
Karl Lagerfeld's passing has left two of the most influential fashion houses, Chanel and Fendi, with a creative vacuum. Lagerfeld spearheaded Chanel for more than 30 years and Fendi for 50 years.
Lagerfeld's long-time deputy, Virginie Viard, is leading Chanel to keep his legacy intact. Fendi has promoted the founder's granddaughter, Silvia Venturini Fendi, to take the helm of the entire line. She previously served as creative director of accessories and menswear.
Lagerfeld's death also leaves a significant question for the industry: as designers of his generation age, how will fashion's creative future unfold?
The fashion trade is having its most sanguine moment. Polymathic creative directors, perched atop time-honoured houses, are middle-aged: Maria Grazia Chiuri (55) at Dior, Nicolas Ghesquière (47) at Louis Vuitton, Hedi Slimane (50) at Celine, Riccardo Tisci (44) at Burberry and Clare Waight Keller (48) of Givenchy. A handful are younger than 40, like Anthony Vaccarello (37) at Saint Laurent and Louis Vuitton's menswear designer, Virgil Abloh (39).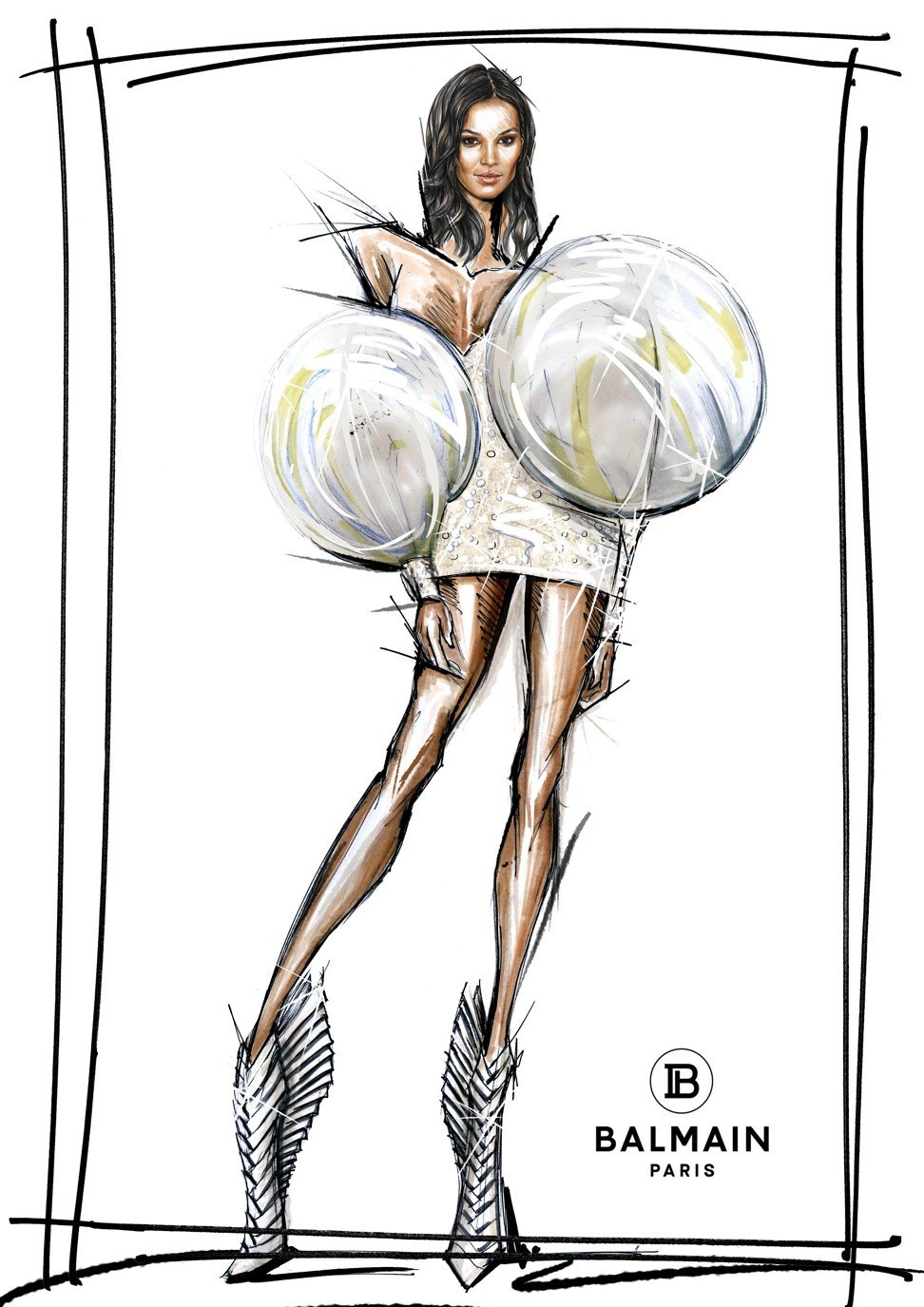 A sketch by Olivier Rousteing for Balmain's 2019 couture collection. Photo: Balmain
Some millennial arrivistes are disrupting the industry with their digitalised, untameable creativity.
Olivier Rousteing, who turned 33 this year, was appointed creative director of Balmain in 2011. He was only 25, and the second youngest to lead a French house. Yves Saint Laurent took the helm at Christian Dior at 21. Since Rousteing took over, Balmain – once reserved for fashion stylists and insiders – has been transformed into one of the most sought-after labels. In 2017, Balmain's sales rose 13.2 per cent to €154 million (HK$1.37 billion), from €136 million in 2016. This is astronomical compared with €30.4 million in 2012, the first year after Rousteing took full creative direction.
An adopted child and openly homosexual, Rousteing is transparent about his upbringing which he translates into his collections – streamlined silhouettes, exaggerated shoulders, cinched waists, power boots – to empower women. Rousteing, who is of mixed race, introduced diversity to the French house, including infusing design elements from the East. Asia is a major source of revenue for the brand.
His creations speak volumes and are coveted by A-listers Kim Kardashian, Kendall Jenner, Sophia Loren and Brigitte Bardot. They are the designer's personal confidants, or as he calls it – the Balmain army.
The young rebel is also a recognised digital influencer. He has amassed 5 million followers on Instagram, sharing everything from pictures with celebrities to selfies, as well as nude photography with the hashtag "#notafraid", causing a considerable stir.
"I'm young, I'm black, I'm a designer, I have famous friends, but I also eat hamburgers and have both feet on the ground," Rousteing once said in an interview. "It's real life and reality always excites people."
Thanks to his enormous congregation of social media followers, Balmain's 2017 fashion show had the highest engagement among peers. American marketers in 2018 spent US$5.5 billion for social media ads, which accounted for five per cent of the advertising market. Rousteing's intangible contribution is not subtle.
Another designer who has long been a talking point is fashion's urchin, Jonathan Anderson. Born in Northern Ireland in 1984, he graduated from the London College of Fashion and launched his own label JW Anderson at the tender age of 24. Anderson's label captured both men's and women's brand of the year at British Fashion Council's "The Fashion Awards" in 2015. This February, he was chosen to sit on the board of trustees of the V&A Museum by British Prime Minister Theresa May.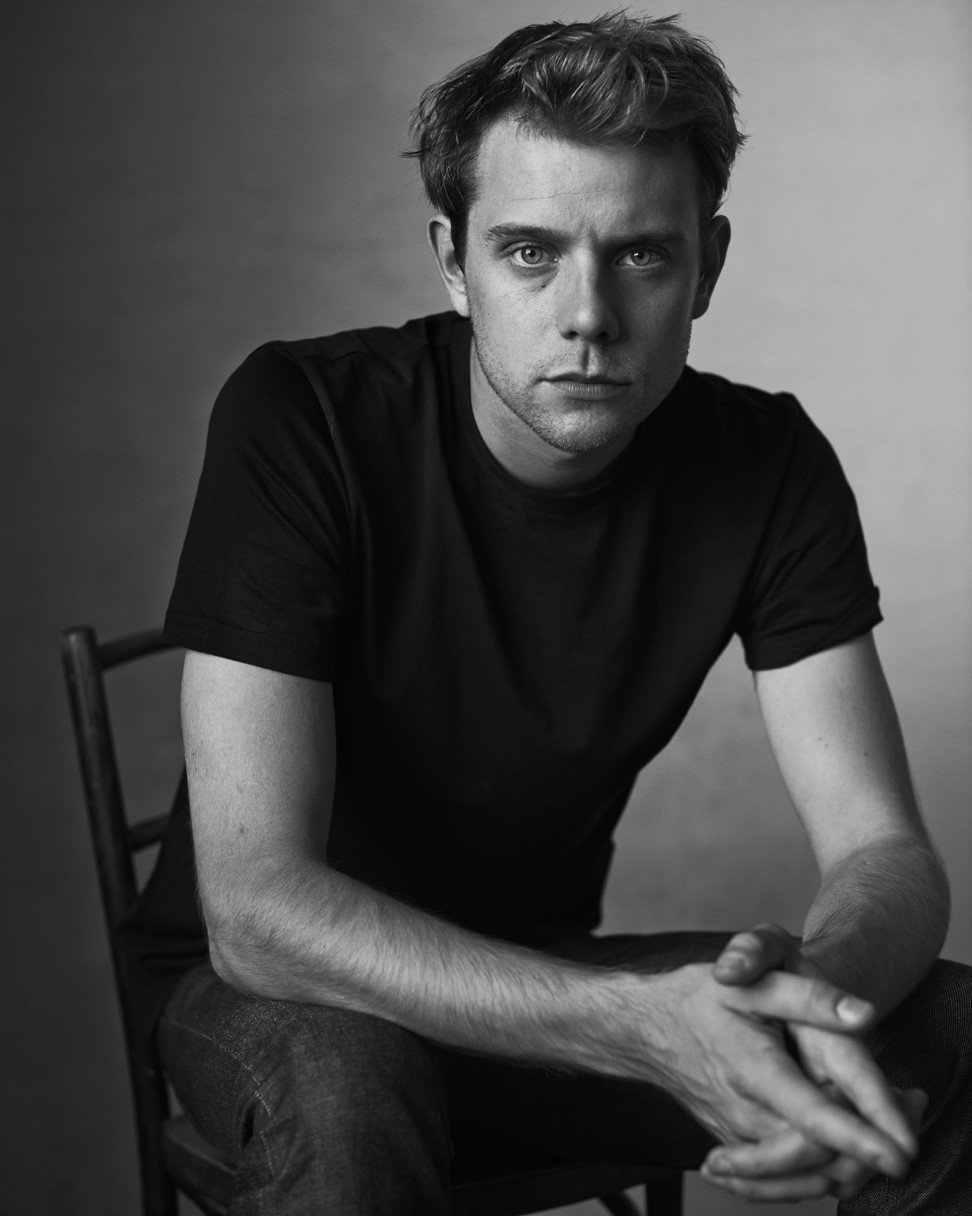 Jonathan Anderson. Photo: Scott Trindle
The designer says, "JW Anderson is all about breaking rules and being a cultural agitator. It's very British. We will continue doing what we've done so well in the past – challenge norms and try new things."
In 2013, before turning 30, LVMH appointed Anderson as creative director of the group's oldest label, Loewe – founded in 1846 in Spain. LVMH also owns a minority stake of Anderson's own brand.
Anderson nonchalantly infused a fresh, elegant, youthful panache into Loewe.
For the brand's 2019 autumn/winter show, Anderson highlighted minimal silhouettes and exquisite craftsmanship. He also redesigned several Loewe boutiques, including the brand's flagship property in Madrid. The brand has seen double-digit growth since he seized the tiller.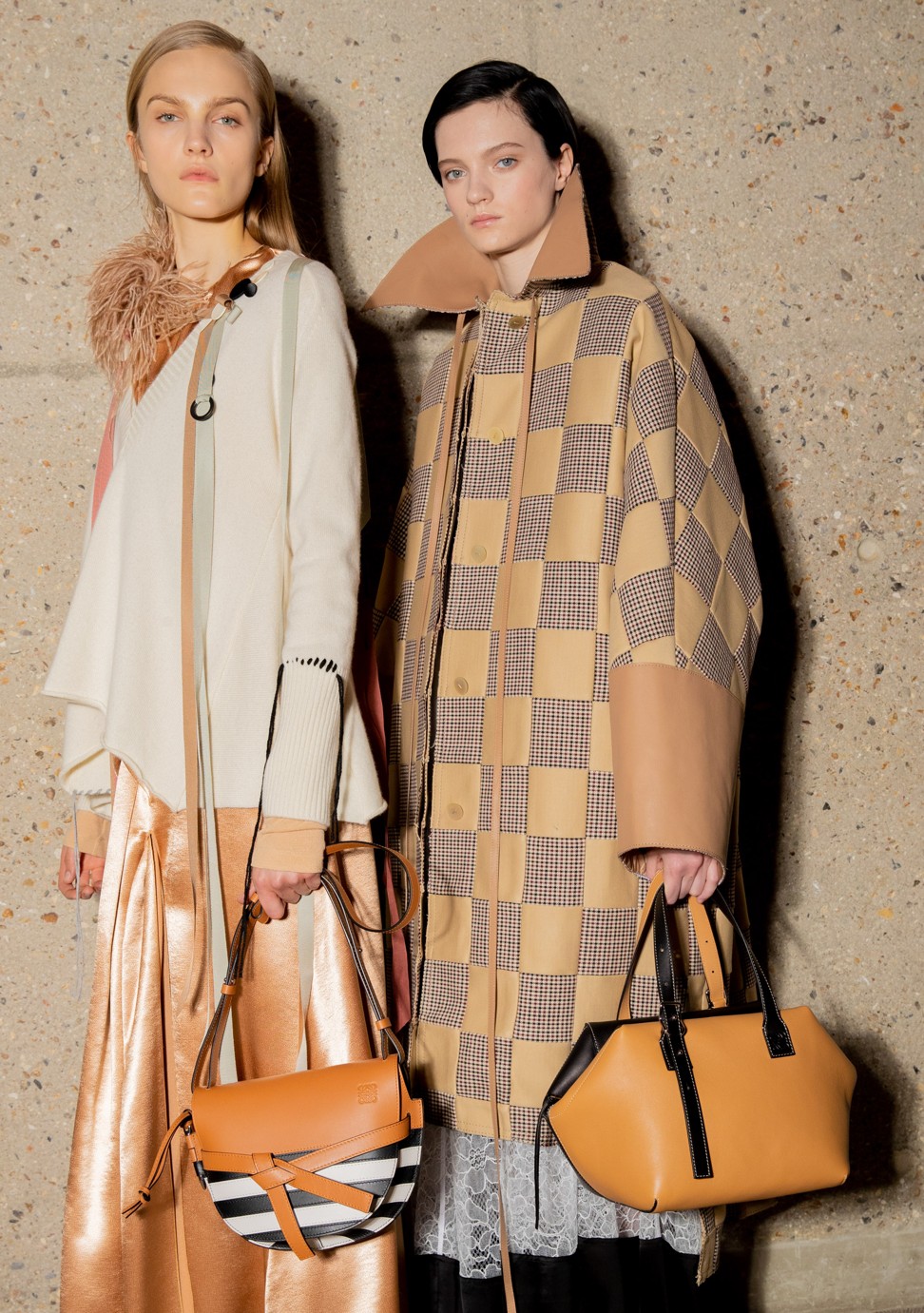 Loewe's autumn/winter 2019 looks designed by Jonathan Anderson.
"I have been very lucky to have some incredible mentors and to be given a chance and support. I think that's important in fashion today – that we continue to support young designers and not just at the beginning of their careers, but to continue to mentor them as they mature," says Anderson.
Other distinguished millennial notables include Irish designer Simone Rocha, Scotland-born Christopher Kane, Greek Mary Katrantzou, American-Chinese Alexander Wang, and Marine Serre and Simon Porte Jacquemus from France.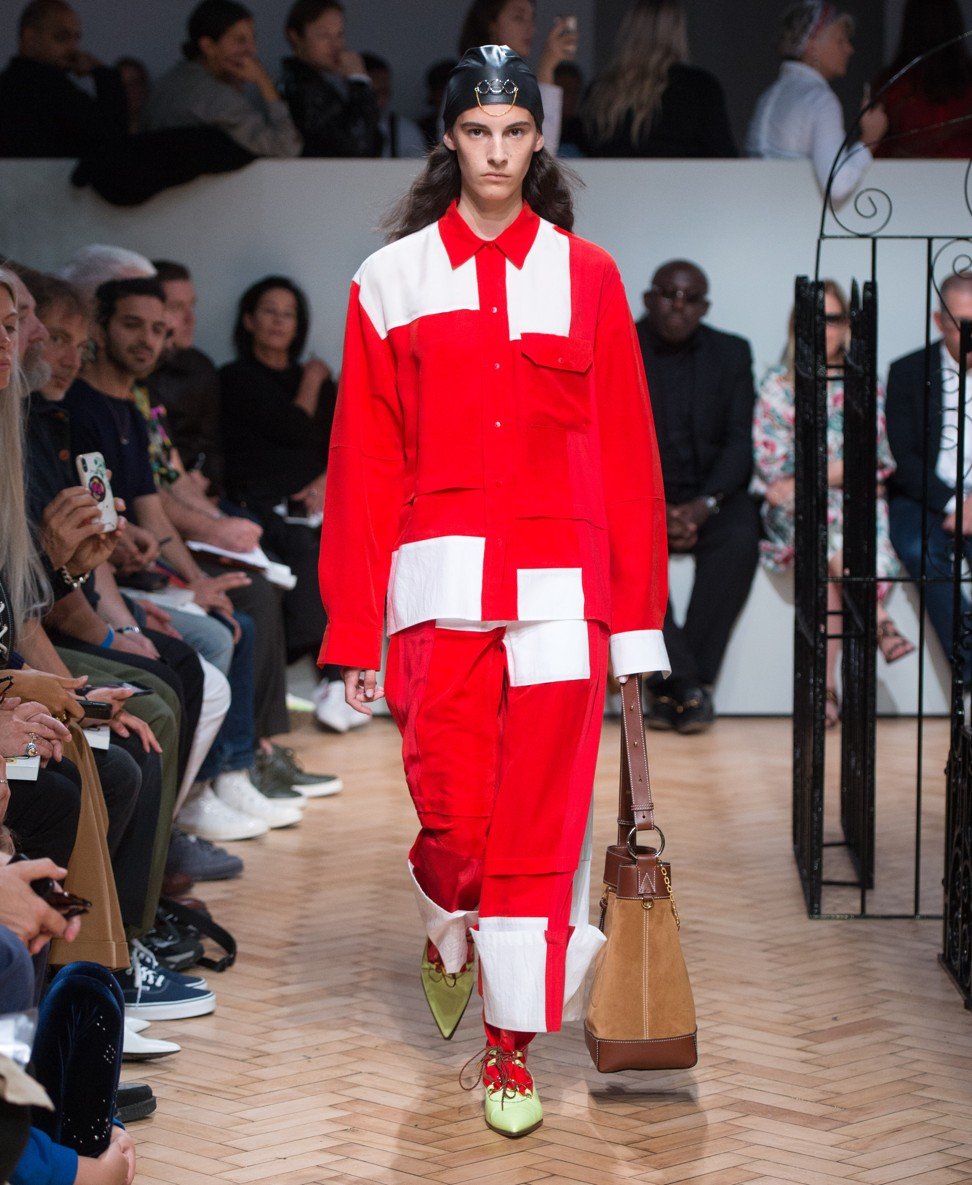 Jonathan Anderson for JW Anderson's spring/summer 2019 collection
According to the consulting firm Alvanon's The State of Skills in the Apparel Industry 2018 survey, one of the biggest challenges that brands and retailers are facing is hiring people with the right skill set. Sixty-two percent of respondents were struggling to fill particular positions. The industry's talent gap is enormous.
John Lau, associate dean for school of design and technology at London College of Fashion, says that having a comprehensive grounding in fashion design with some complementary skills in computer aided design (CAD) was enough to help fashion graduates stand out 20 years ago. Today's graduates leave with CAD skills and more importantly, the knowledge of sustainability, social responsibility, diversity and environmental literacy that have far-reaching effects on the fashion industry.
Millennials are the bread and butter of today's luxury consumption and demand fresh offerings. McKinsey's Millennials survey suggests that younger generations want to distinguish themselves through brands and are more likely to buy from up-and-coming labels.
Faced with this dilemma, fashion institutions and enterprises are strategically planning every step in a bid to nurture the next generation of designers.
This article was originally published on South China Morning Post.